42,031
Subscribers
(BPA VERIFIED)
The foundation of any successful maritime marketing plan starts in Maritime Reporter– with the industry's largest verified circulation.
MARITIME REPORTER HAS REAL BUYING POWER
16,976
Ship, Boat, Barge Owners, Operators - Navy & Commercial
10,451
Shipbuilding, Boatbuilding, Drill Rig & Repair
6,281
Professionals: Naval Architects/ Marine Engineers/ Consultants Shoreside
8,323
Marine Equipment, Government, & Allied Marine Industries
Editorial
● SHIP & BOAT OWNERS ● SHIP & BOAT BUILDERS ● VESSEL REPAIR & MAINTENANCE ● MARITIME EQUIPMENT ● NAVAL ARCHITECTURE & MARINE ENGINEERING

Greg Trauthwein has covered the global maritime market for more than 30 years, today serving as President and Chief Operating Officer Publisher and Editorial Director with full content responsibilities for four b2b trade publications, 10 websites, and a dozen e-newsletters serving the global maritime, offshore energy, subsea, ports and logistics sectors.
Maritime Reporter & Engineering News
is the flagship of the maritime sector's largest network of print and electronic media, reaching the global industry's highest combined business circulation. As the leader in the market, we continue to serve in-depth insights and crucial data to the maritime sector's most influential audience. Our advertisers benefit from our unsurpassed reach and unshakeable reputation.
2024 Maritime Reporter
and Engineering News Calendar
January 2024

Ad Close Date: Dec 28

Cruise Ships & Ferries

Marine Interior Outfitting
Coatings & Corrosion Control
Autonomous Ship Systems
Water Treatment Systems

EVENTS
Seatrade Cruise, Apr 8-10, Miami
PVA Maritrends: Jan 27-30, Portland

February 2024

Ad Close Date: Jan 21

The Ship Repair & Conversion Edition

Marine Hybrid Propulsion
Marine Fuels and Lubricants
Marine Electronics
Special Report: Japanese Shipbuilding & Ship Equipment
EVENTS
CMA: Mar 12-14, Stamford, CT
Electric & Hybrid, Mar 13-14, Long Beach, CA
Europe Offshore Wind, Mar 19-21, Bilbao, Spain
Sea Japan, Apr10-12, Tokyo
Sea Air Space, Apr 8-10, Washington, DC

March 2024

Ad close Feb. 28

E-Magazine Edition
Dredging
April 2024

Ad close Mar. 28

Offshore Energy: Ship, Boat & Rig Building

SOVs
Marine Gears & Transmissions
Deck Machinery & Cranes
Maritime Universities & Academies
EVENTS
OTC: May 6-9, Houston, TX
IPF Wind: Apr 23-25, New Orleans

May 2024

Ad close Apr. 28

Green Ship Technologies
Tugboats & Towboats
Marine Salvage
Marine Batteries & Fuel Cells
Classification Societies
EVENTS
Posidonia, June 3-7, Athens, Greece
Inland Marine Expo: May 29-31, Nashville

June 2024

Ad close May 28

Digitalization

Wind Turbine Installation Vessels
Fast Attack and Patrol Craft Builders
Green Hydrogen
Water Jets, Thrusters & Propellers
EVENTS
Multi-Agency Combat Craft (MACC)
Marine Money Week, New York, NY

July 2024

Ad close June 28

E-Magazine Edition
Navy & Coast Guard
August 2024

Ad close Jul. 28

Shipyard Annual
Pipes, Pumps & Valves
Ballast Water Management
Tools: Welding & Cutting Equipment
Special Report: German Shipbuilding & Ship Equipment
EVENTS
SMM 2024, Hamburg, Germany
September 2024

Ad close Aug. 21

Marine Design Edition
Energy Transition & Marine Design
Naval Architects & Marine Engineers
CAD/CAM Software
Special Report: Shipping & Port Logistics
EVENTS
Breakbulk Americas: Houston,TX
SNAME 2023
Shipping Insight: Oct, Stamford, CT, USA
Maritime Week Americas
Interferry

October 2024

Ad close Sep. 28

E-Magazine Edition
Offshore Energy: Oil & Gas * Wind *Wave
November 2024

Ad close Oct. 28

Workboat Edition
Autonomous Workboats
Diesel Engine Technology
Deck Equipment: Winches & Cranes
Training and Simulation
EVENTS
Int'l Workboat Show: Dec, New Orleans, LA
December 2024

Ad close Nov. 28

Great Ships of 2024
Alternative Ship Propulsion Assist Technologies
Marine Robotics
Safety Equipment
Navigation: Radar, ECDIS & Collision Avoidance
EVENTS
Surface Navy Assoc: Jan 2025
Maritime Reporter E-Magazine
View Demo
There are three (3) E-Magazine only editions in 2024 (March, July, October).

The digital magazine includes all the insightful content of the print magazine but offers an enhanced digital experience. Our digital magazines are interactive, they feature custom ad enhancements including: videos, interviews, direct links, and company profiles. These special editions will be distributed electronically to more than 87,000 recipients.
E-Magazine Sponsor Includes:
First and last page - Full page dds
300x250 Floating ad that rides along with viewers as they read
Banner in e-magazine announcement
(Optional) discounted 300x250 banner on site
Download the E-Magazine rate card for pricing and bonus features in the digital editions.
Monthly Content Package
1 week combination of sponsored content with video embedded
1 email blast or whitepaper deployment
Banner on site and e-newsletter for the month
Included in posts on our social media sites
Cost: $5,750.00 Additonal E-magazine (where applicable) for an additional $1,000.00

Digital Issue Sponsor
The digital edition sponsor is an innovative way to show off your company to the maritime industry. By sponsoring the digital edition, you will receive exclusive branding on the email release announcement as well as a special position within the magazine. It's like advertising on the front cover of the magazine!
The sponsorship package includes:
600x100 Banner
Logo & description in email
Landing page banner
Full magazine accompaniment banner
Pricing: $3,500/net per edition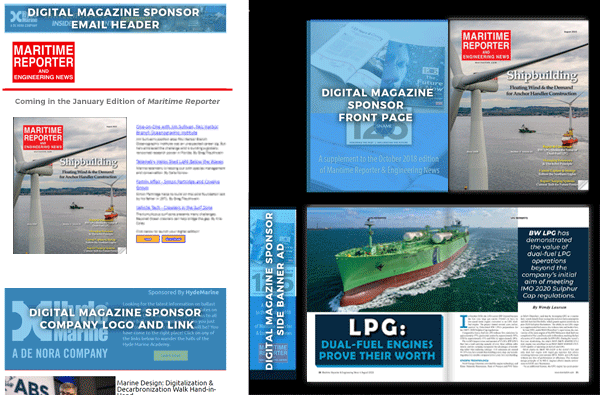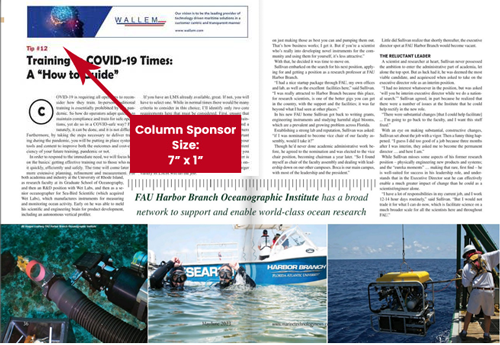 Column Sponsor
Column Sponsor
Monthly Column Sponsor
Each edition, Maritime Reporter & Engineering News' regular coverage, includes a wide range of topics. Now you can feature your company alongside the section of your choosing with a column sponsorship. The regular featured columns include:
Training Tips for Ships
The Path to Zero – Decarbonization Tech
Back to the Drawing Board (Naval Architecture & Marine Engineering)
Digitalization
Offshore Wind
Eye on the Navy
Legal Beat
Column Sponsor: $1600/net per edition

Maritime Matters: The MarineLink Podcast
Join our seasoned host, a maritime industry veteran with decades of experience, as they take you on a riveting voyage filled with captivating stories, cutting-edge trends, and thought-provoking discussions. Whether you're an industry professional, a maritime enthusiast, or simply curious, this podcast is tailor-made for you. Pricing:
| | |
| --- | --- |
| Stand-alone Podcast | - $2,500.00 |
| Podcast + eNews Distribution | - $3,450.00 |
| Podcast + eNews Distribution + Online Feature with Audio embed | - $4,650.00 |
MarineLink.com
Created in 1996, MarineLink.com is one of the global maritime industry's original websites, and today serves as the head of a family of world-leading websites serving the maritime, offshore energy, subsea, ports and logistics markets.
812,523
Average Monthly
PageViews
483,785
Average Monthly
Sessions
360,116
Average Monthly
Users

Sponsored Content

Our targeted native advertising will put you in front of the right decision makers. Your story will appear on our homepage, Marinelink.com and in a combination of the Maritime Network's targeted E-Newsletters, Maritime Today and Maritime Reporter e-newsletter. Plus, your story will remain in the network's archives and will be searchable from our site and search engines.
Package price $1,750.00 net per week.
Maritime Today E-News Get Rates
47,970 - 5X/Week
Maritime Today is the original and most comprehensive daily maritime e-newsletter. Every business day your company's banner ad will be delivered via our e-newsletter around the world to an engaged, opt-in audience of over 47,000 recipients.
Maritime Reporter E-News Get Rates
22,133 - 6X/Week
The Maritime Reporter E-News brings global maritime industry news to over 22,000 opt-in recipients before the business day in the U.S. begins. It features digital links to latest issue of Maritime Reporter, as well as providing banner advertising opportunities to offer you access to our engaged audience.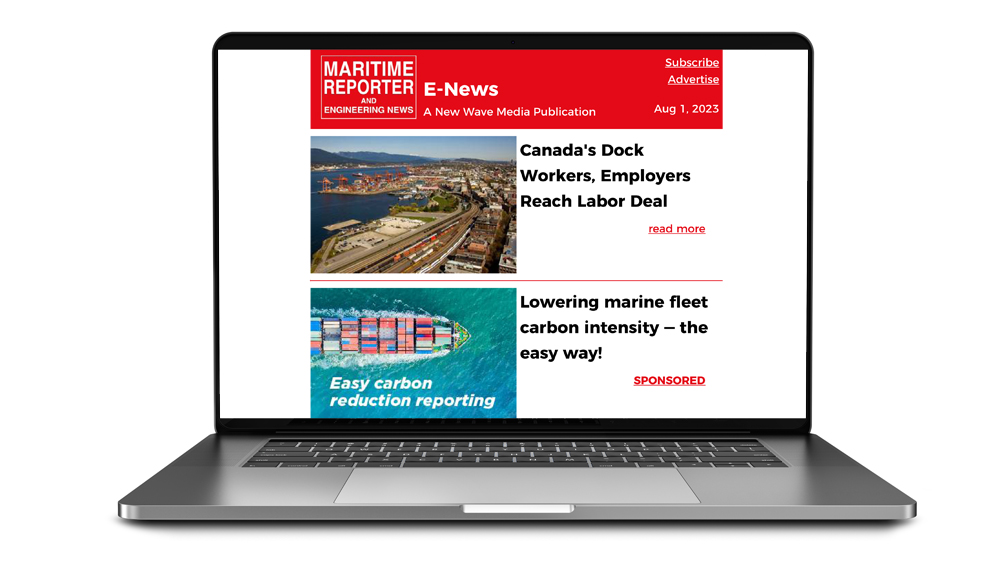 Maritime Reporter TV
Maritime Reporter TV
Insightful Q&A
With our Editorial Team
Online Feature
Across Our Network
Social Media Boost
Available
Email Direct Marketing
If you are targeting the maritime market
our opt-in e-mail service will send your message directly to the inboxes of over 87,000 recipients in minutes. The process is simple; you select an available date and send us your email material; you can track your campaign in real-time on the custom IMPACT system.
Get Rates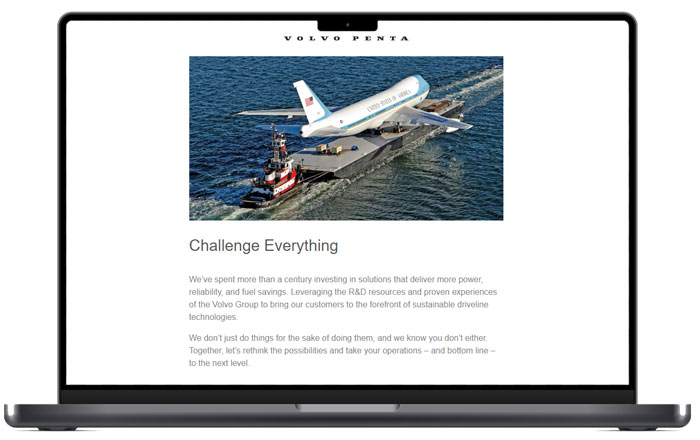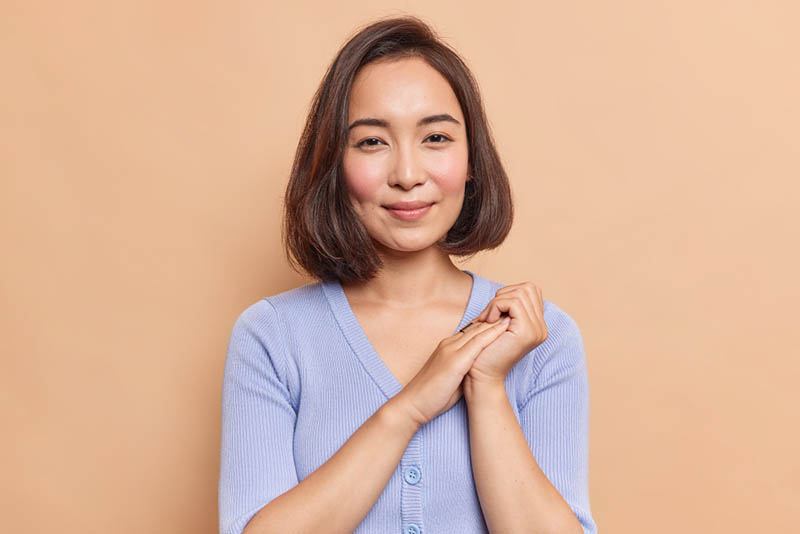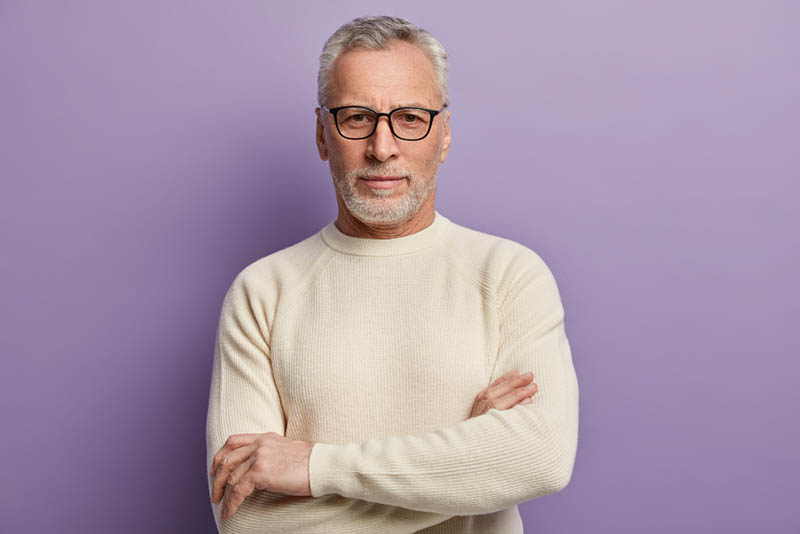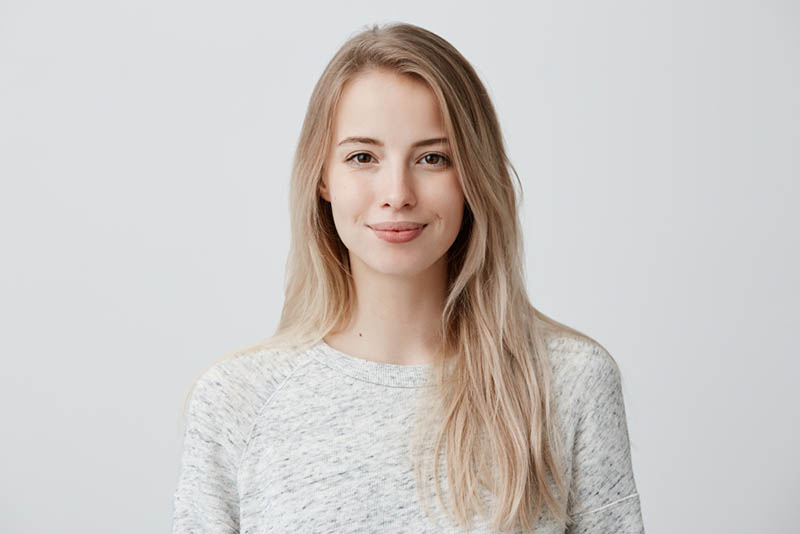 87,000+ recipients in minutes
White Papers
Make your company's content visible to decision makers around the world. Special content marketing gives you the gives you the opportunity to sponsor your "white paper" hosted on the Maritime Network and distributed to our targeted email database. This powerful marketing tool allows you to bring your message directly to purchasers and buyers researching your market.
Get Rates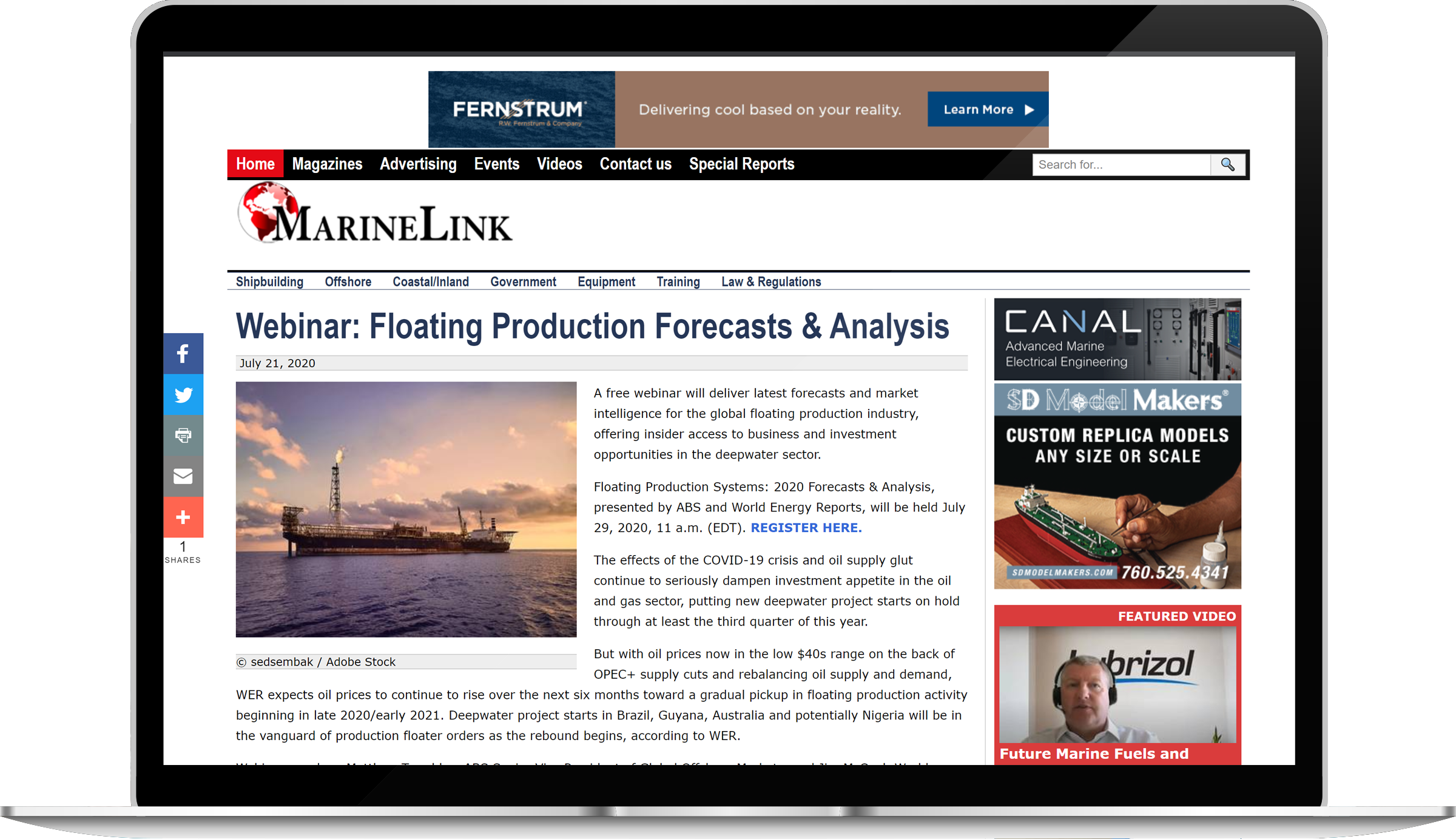 Webinars
Our webinar package is specifically designed to bring you a qualified audience while building your company brand awareness through the industry's largest network of publications, websites and e-newsletters. If you are planning a product launch or want to demonstrate how a service or product could benefit the maritime market, we have the best solution to make that a success. What you get:
6-week awareness campaign to gain attendees
Professionally moderated (optional)
Full attendee contact list after the event
Housing of Webinar online
Get Rates
Rate Card